In the latest of our series looking at the regulations and requirements across each discipline, we look at what a designer needs to know when specifying Resilient Flooring, such as luxury vinyl tiles, with the assistance of BCFA Member Amtico.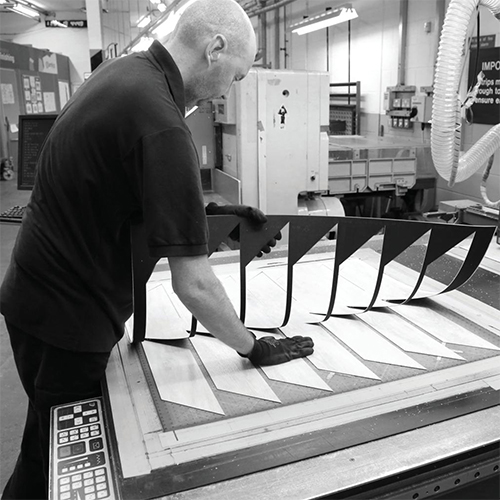 What should a designer know about the difference between domestic and contract specifications?
There is no difference between domestic/residential specifications and commercial/contract for luxury vinyl tile (LVT) flooring. At Amtico, we sell to each sector using the same product with the appropriate warranty.
While there are several construction standards that can apply to both applications, it isn't a requirement for manufacturing. For example, a typical LVT product that conforms to ISO 10582 demonstrates compliance and third-party testing to a minimum set of manufacturing criteria. This includes weight, thickness, wear layer, residual indentation, usage classification and colour fastness to light, as well as optional tests, such as effect of stains.
In addition, floor coverings require CE or UKCA marking. There is a 'harmonised standard' – EN14041 – which covers both marks and defines the performance properties a flooring product has, including slip requirements. While there isn't a legal requirement/minimum fire class within current building regulations for fire testing floor coverings in the UK, it is mandatory to comply with the EN14041 standard.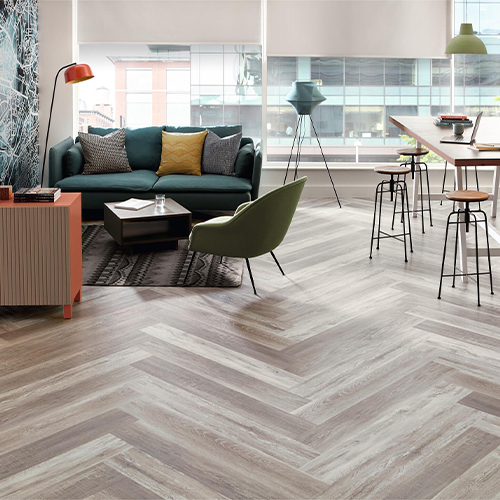 What should the designer consider in relation to durability, and fit for purpose?
Colour fastness
Designers should always consider how the end user will be using the space, as this will influence which type of flooring is required. For instance, designers specifying an office space with full-height windows should look for flooring with a 'colour fastness to light' rating of at least 6, which will only be available if the flooring product is manufactured to ISO 10582.
Wear layers/usage
LVT wear layers are also an important consideration. Typically, the thicker the wear layer, the longer the plank or tile will last. The wear layer also determines the usage class; for example, a minimum of 0.2mm for general residential use and 0.55mm for heavy commercial usage. Warranty periods are usually related to wear layers too. At Amtico, our Spacia collection has a 0.55mm wear layer and is supplied with a 10-year commercial and 20-year residential warranty, while our Signature collection has a 1mm wear layer and a 20-year commercial and lifetime residential warranty.
Acoustics
Designers should look for a higher impact sound rating, as this will help minimise sound transmission between floors, in applications such as multiple-occupancy buildings, hotels and classrooms. Impact sound denotes the noise that is generated when an object strikes the floor and passes into the room below. Results are quoted as ΔLw in decibels (dB) – the higher the figure, the less noise is transmitted through the floor to the room beneath. With acoustic LVT products often having foam backings, there is a greater tendency for the planks and tiles to indent when heavy items are placed onto them, as allowed by the standard EN 651. However, this indentation will usually recover well when the load is removed.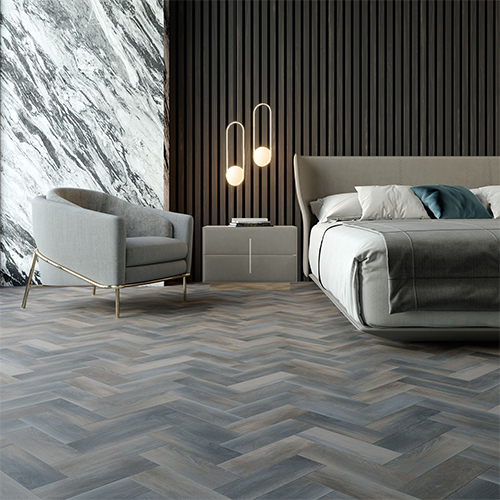 Are there differences between UK, EU or USA requirements?
The UK and EU are very similar, as all the regulations that existed from when the UK was part of the EU were transferred into British law. The manufacturing standard, ISO 10582, is recognised across the whole of Europe. However, requirements in the USA are different to those in the UK and EU.
One factor that exists across Europe is 'volatile organic compound' (VOC) testing/certification. While there isn't an air quality requirement in the UK, some countries have state requirements including France, Germany, Belgium, Italy and Finland (M1) – they require flooring products to be tested to their standards in order to be sold and fitted there. The countries all test the products in a similar way but look for slightly different elements; Finland, for example, has a sniff test! In addition, building assessment schemes also exist, including BREEAM, LEED and Well.
There are also certificates, such as Eurofins Indoor Air Comfort (IAC) Gold, that fulfil the criteria for all the European countries with air quality requirements. All Amtico products are certified to IAC Gold.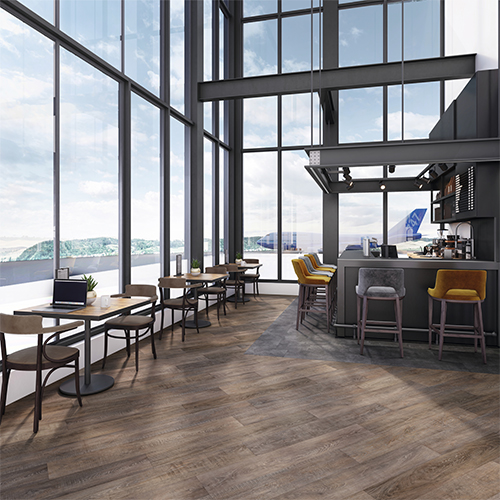 When communicating with a supplier what should designers be asking?
Fire class
Designers should be asking to see what the EN13501-1 fire class is. Vinyl flooring would typically have a Bfl s1 rating – the highest available for flammable material.
The first letter refers to the overall rating (ranging from A-F). 'B' is the highest available for LVT and applies to all Amtico products. The 'A' rating exists for non-flammable flooring such as ceramic or stone.
'FL' represents the product type, i.e. 'flooring'.
'S' relates to the amount of smoke generated; it ranges from S1 to S3, with 1 being the lowest amount of smoke.
LRV
Another important product quality designers should ask about is light reflectance values (LRV). Put simply, LRV Y-Value is a universal scale for 'contrast', measuring the proportion of light reflected by a coloured object, with an LRV Y-Value rating of 0 representing black and 100 representing white. It is covered by Part K of the Building Regulations regarding protection from falling, collision and impact. Visual contrast is vital to help the visually impaired, and those who are registered blind. So, in accordance with the Equality Act, designers should ensure a minimum of 30 points of LRV difference between adjacent surfaces.
Chemical resistance
Certain applications require flooring that won't stain as easily, such as care facilities or restaurants. In these circumstances, designers should consider a floor's chemical resistance. It's an optional assessment within the ISO 10582 standard and tests how the floor is affected against a selection of substances such as urine, blood, red wine, sulphuric acid and iodine.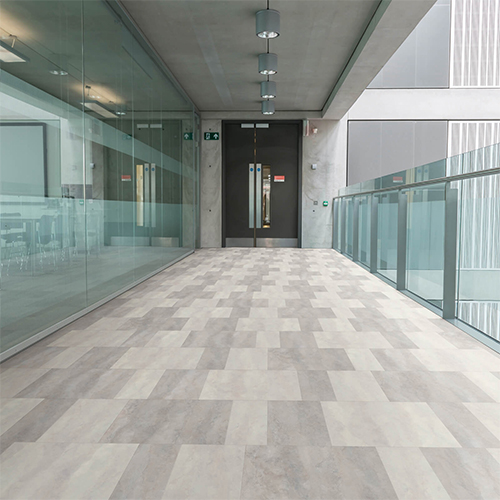 Which requirements are best practices, and which are legal requirement?
After 31st December 2022, the UKCA mark will be mandatory for LVT products sold in the UK. However, CE will remain the recognised mark in the EU and Northern Ireland. By selecting a floor that carries the CE and/or UKCA mark (in Europe and the UK respectively), designers can ensure the product has been tested to the requirements of EN14041. The standard demonstrates that the product has been third-party tested to particular performance requirements, including mandatory fire testing.
LVT flooring products cannot be installed on a wall unless they have been tested as a wall covering. Most products won't have been subjected to this testing so must be fitted across a floor but not extended up the wall.
As previously mentioned, minimum fire class requirements are not currently part of UK building regulations, however, that may change. Fire testing floor coverings in the UK is a legal requirement in compliance with the EN14041 standard.