In the next of our series looking at the regulations and requirements across each discipline, we look at what a designer needs to know when specifying Outdoor Furniture, with the assistance of The Modern Garden Company.
1. What should a designer know about the difference between domestic and contract specifications?
The designer should be aware of the fire safety and performance requirements for domestic and non-domestic use of upholstery components, these include fabrics and cushion fillings.
Firstly UK law requires all cushions and upholstery used for Outdoor furniture conform to the same fire regulations as indoor furniture. Often designers are not aware of this law and assume that because it is outside, it need not comply. In addition not all European furniture upholstery is compliant as standard and questions should be asked early on in the procurement process to ensure they are specifying a compliant product for the end user.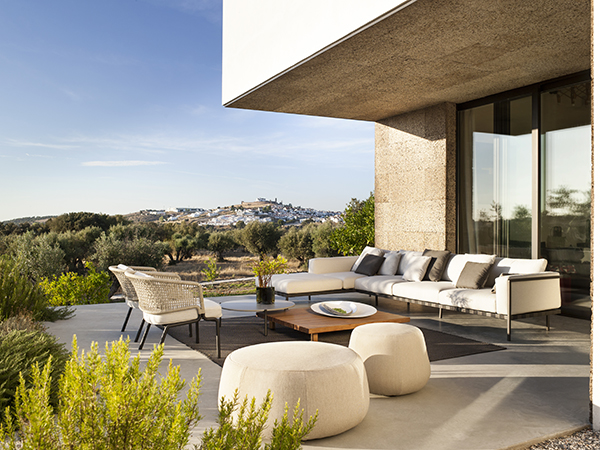 Fully Upholstered Setting Compliant with FR
In the UK, fire safety requirements for domestic use are well established. Cushions and upholstery must conform to the Furniture and Furnishings (Fire) (Safety) Regulations 1988.
For Contract (non-domestic use) in order to define the fire safety requirements it will largely depend on the end use of the building. The tests used are also different to domestic standards so it is important to specify the exact standard required. The levels of compliance will rest with the responsible person taking full corporate liability, so it is important that the designer is aware of what is required and who is fully responsible.
In addition, performance standards for textiles used in upholstery will vary depending on the end use of the furniture. Understanding the performance categories for their project will allow the selection of a suitable fabric.
Testing may include:
Wyzenbeek test and Martindale test to determine the fabrics abrasion rating, colour fastness to weathering where fabric is exposed to a series of light, rain and temperature changes and a UV testing.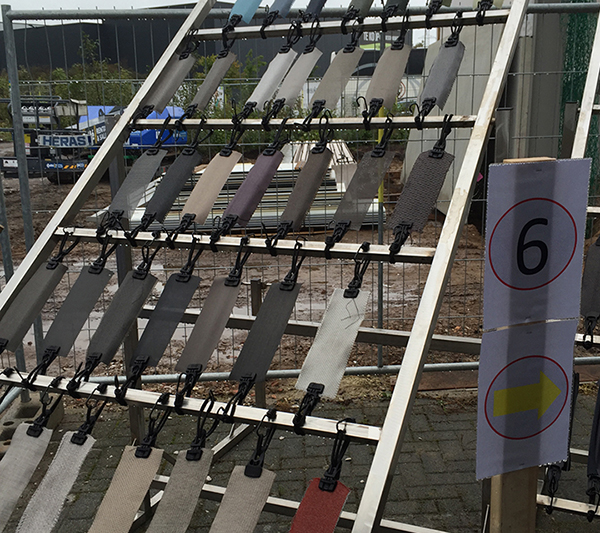 Fabric UV Testing
Usually fabrics are chosen on the basis of general contract upholstery for domestic and non-domestic use and heavy duty upholstery for harsher contract environments.
Often after installation on contract jobs, someone from the project/building will be in touch to ask for certification. So always best to make sure that this can be provided.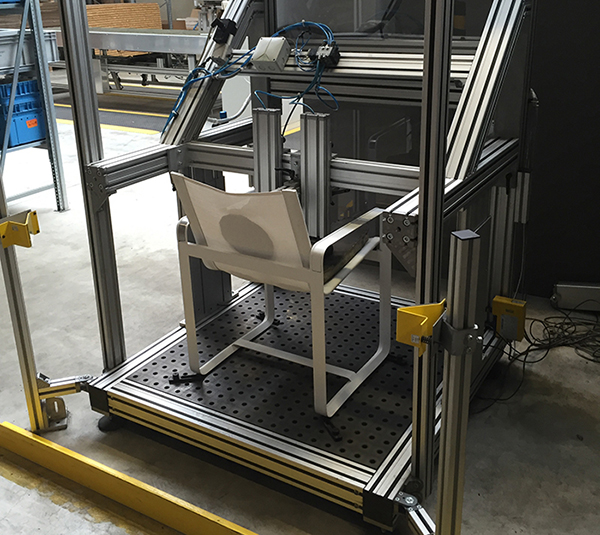 Testing of Chair
2. What should the designer consider in relation to durability, fit for purpose?
The designer should consider a multitude of things to ensure that the furniture that is being specified is suitable for the end users' needs in terms of size and function, the environment in which it is placed and the safety aspects that need to be addressed.
Even the most benign outdoor location will put considerable demands on outdoor furniture and accessories. The materials, finishes and fittings used must be much tougher that anything used indoors. Longevity may not be a priority for the customer, but low quality and cheap materials may not even last a season. Outdoor furniture is also regularly moved and stacked and this is hard on frames and surfaces. It is important that a full maintenance regime is followed in the same way as furniture and fitings are cared for indoors, this will extend the life of the furniture and keep it looking its best.
3. A designers product knowledge is key. Questions may include:
a), Whether the frame and upholstery is fully exposed to the environment, and what conditions is it experiencing i.e. sea spray, extreme heat and/or humidity, wind, cold temperatures, foliage and wildlife.
The material choice will depend largely on the environment i.e. Sea spray areas would benefit from an anodized aluminum or electropolished stainless steel finish which is more suitable to swimming pool, sea and industrial areas.
b), What level of maintenance the client wishes to embrace.
As this will ultimately prolong the lifespan of a product or maintain the aesthetic qualities i.e. softer fabrics require covers in winter months and teak will create a silver patina with exposure to UV light that cannot be reversed. If the client wants a robust table that will receive minimum care and attention perhaps a powder coated frame and ceramic top may be suitable, as opposed to an aged teak or a fully upholstered setting.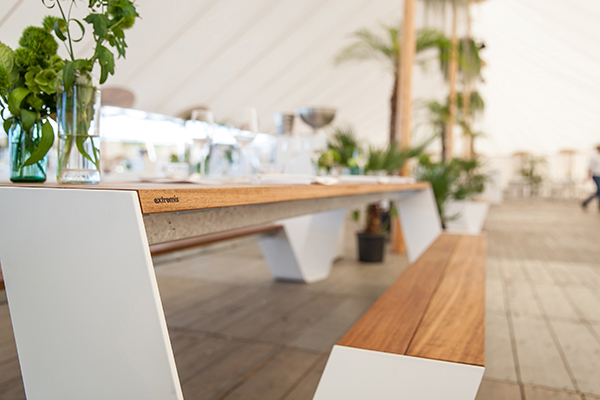 Teak Top Table
c), What will be the function of the space, i.e. is the furniture likely to be subject to stains from beverages and require regular cleaning, does it need to be hygienic, does it need to be moved, dismantled or stacked.
This could have a huge impact on the choice of material finish, to avoid dirt, scratching and staining, or the weight of a heavy frame.
d), Lastly, in terms of safety, as previously discussed it is often overlooked that outdoor furniture does not need to be compliant with fire regulations, however if it can be brought indoors, it must adhere to the same British standards as all indoor furniture, and upholstery should be treated to adhere to these Fire Safety Standards. It is not always the case that all outdoor furniture from Europe complies with UK fire regulations and for domestic projects, specifically, you as a designer may be at risk.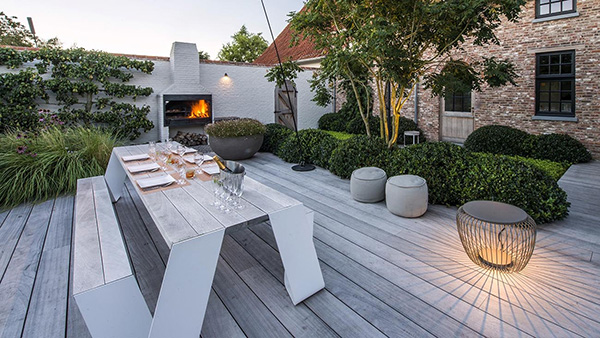 Teak Top Weathered
4. Are there differences between UK, EU or USA requirements?
Yes.
Specifying furniture should consider all international requirements where possible. This comes back to the Fire Regulations, which differ from country to country. It is best to ask a reputable supplier what the differences are for their product ranges. All products will have different levels of certification, but ask the question early to avoid disappointment.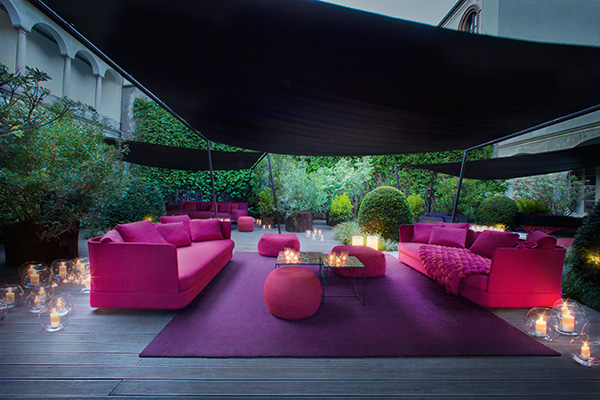 Colour Sofa Setting
5. When communicating with a supplier what should designers be asking?
Many of the questions a designer should be asking are the same as when they are determining whether a collection is durable, fit for purpose and compliant with the fire and safety standards. In addition, it is very important to understand lead time, as often cushions and upholstery need to be made to order and some complex and intricate collections are hand woven and can take time to develop.
6. Which requirements are best practice, and which are a legal requirement?
Fire and Safety are the legal requirements, however, the same attention should be given to all other elements of the design and specification. As a designer, specifically for domestic projects, they will be fully responsible for the performance of the furniture.
The use of sustainable materials is often considered best practice unless an environmental assessment of the building is undertaken and even then it is not essential for furniture to be part of the assessment criteria. But because all aspects of the design are potential opportunities for credits, it does make sense to ask the suppliers what products use ethically sourced materials, and have been manufactured using recyclable or recycled materials. The chain of custody should be high on the agenda of most international furniture suppliers and certification should be available.
When specifying outdoor furniture the environmental and sustainability issues around outdoor furniture are similar to indoor furniture.
Raw materials; the use of timbers from managed forests or ideally that are grown close to the production thus reducing the transport. Good quality exotic timbers should have an FSC or a chain of custody certificate.
Recycling: depending on the source country, the precentage of recycled material in aluminium and stainless steel is very high. Many products such as synthetic wicker are recyclable but use high levels of energy in production.
Transport; many products, particularly those produced in the Far East, will have significant transportation carbon footprints.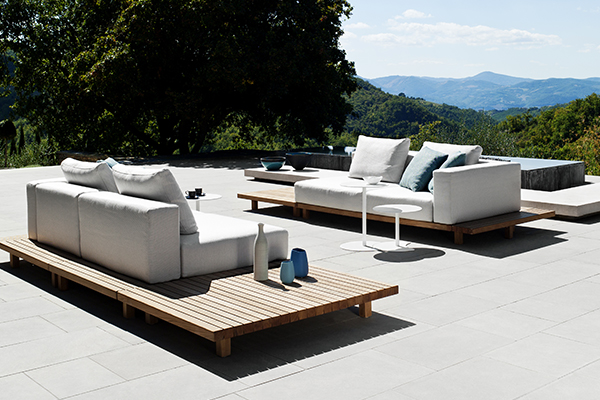 Sustainably Sourced Teak
For more information, or to contact The Modern Garden Company, click here