Commercial Interiors UK are delighted to be holding our 6th Dublin OPEN exhibition on the 24th October 2023.
This pop-up exhibition will give interior designers, buyers, and specifiers the opportunity to meet in person with some of the best commercial furnishing suppliers from the UK & Ireland. Consisting of over 25 leading manufacturers and suppliers who will be showcasing their high-end products offering value, excellence & innovation to the Irish market.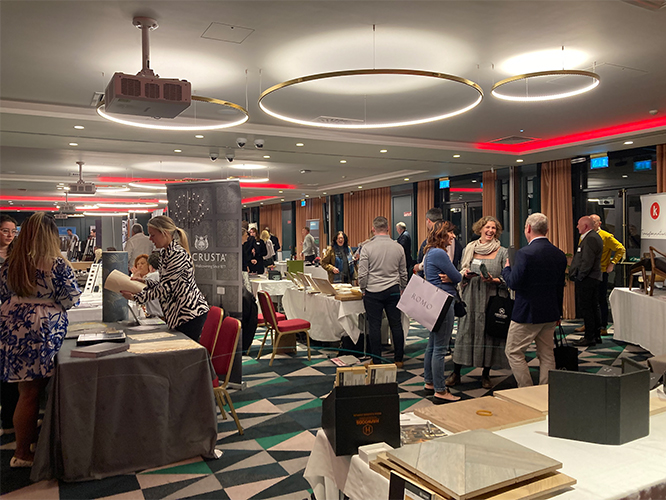 Visitors will see a variety of products suitable for the full spectrum of interiors for Hospitality, Healthcare, Education & Office.
Where? The Gibson Hotel, Dublin
When? Tuesday 24th October 2023, 12 noon - 7pm
Opening with a buffet lunch and welcome drinks
Afternoon tea at 3.30pm with a bar/drinks running throughout the day
Drinks reception with canapés starting from 5.00pm-7pm
Exhibitors: Agua Fabrics Ltd, Amtico, Andy Thornton Ltd, Astro Lighting, Bourne Furniture Ltd, Camira, Chieftain Fabrics, Conran Commercial, Ege Carpets UK, Egger (UK) Ltd, Franklite Ltd, GROHE, Havwoods Ireland, Indorama Ventures Fibers, John Lewis & Partners Textiles Factory (Herbert Parkinson), KAI Contract, Knightsbridge Furniture Productions Ltd, Kobe UK Ltd, Kronospan, Lincrusta, Milliken with Winroy, Moon, Panaz, Sanderson Design Group Contracts, Sekers Fabrics Ltd, Spires Art Ltd, Sunbury Design, Surfaceform, The Isle Mill, The Romo Group, Waterbury, Wilton Carpets.
Supporters: The Interiors Association, UK Department for Business and Trade.
To register your free ticket to this event, please click here.
For further information or Dublin OPEN updates, visit: www.ciukopen.com