The Creative Industries Trade Mission to Riyadh from 10-13 September, run by the Department of Business and Trade (DBT), and facilitated by Sue Graves, Head of CIUK International Business Opportunities, with support from the Royal Institute of British Architects (RIBA), was an amazing success.
Against a backdrop of Saudi Arabia investing billions in huge giga-projects and needing a full range of creative services and expertise to service the growing hospitality, leisure, commercial and residential property sectors, the three day mission provided knowledge and opportunities for 30 selected British Creative companies to promote their varied architectural, design and interiors skills to this vast marketplace.
Out of the 30 creative companies represented on the Mission, seven of them were CIUK members - Boss Design, Burgess Furniture, ILIV, Liqui Group, Newmor, Panaz and Roman.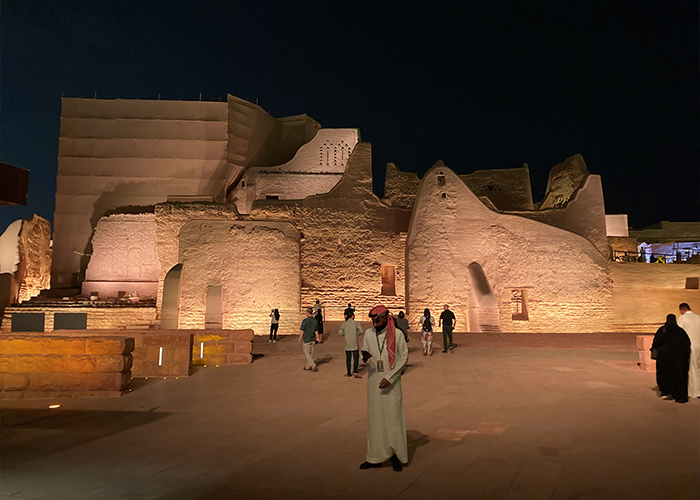 Prior to the commencement of the mission, CIUK was honoured to be invited to a RIBA Gulf Chapter gathering of architects and designers which took place at the top of Riyadh's historic Diriyah Fort. It was interesting to hear the challenges of designing for buildings and interiors in such a volatile and hot climate.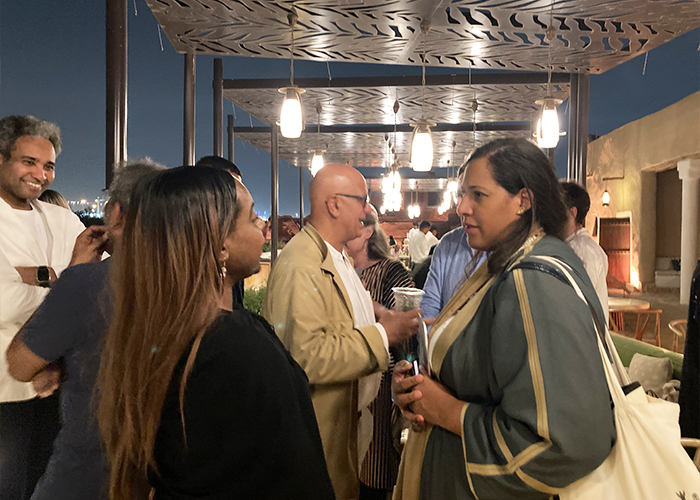 The Mission commenced with the 33 UK delegates attending a comprehensive Morning Briefing Meeting with an in depth introduction to the KSA marketplace by DBT Mission Co-ordinator Graham Ellis, Middle East Business Specialist, Services & Skills, Exports & UK Trade.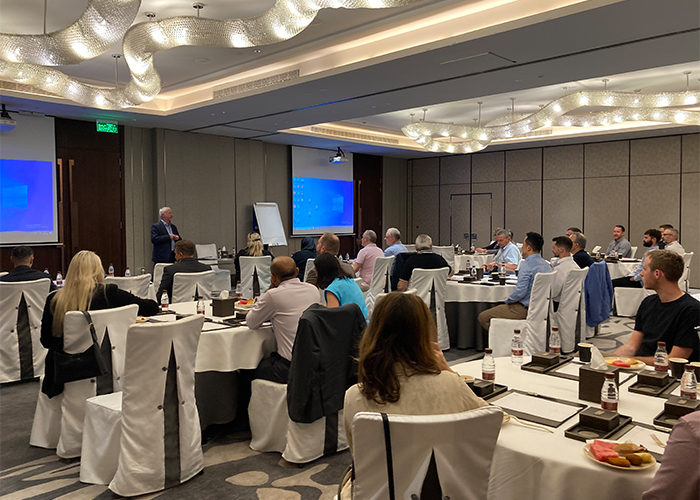 Amongst the other Speakers presenting, we were delighted to welcome Dr Valerie Vaughan-Dick, MBE BSc MSc CPFA PhD FRCGP(Hon), newly appointed CEO of RIBA. We were also honoured to receive a presentation on plans to support the development and improvements to the Saudi A & D sector by Dr. Sumayah Al-Solaiman, CEO of the Architecture and Design Commission at the Ministry of Culture, who attended with Dr. Sultan Al-Otaibi, General Manager, Saudi Architecture and Design Commission. The UK companies welcomed the chance to network with the speakers and meet with each other over refreshments at the end of the morning session.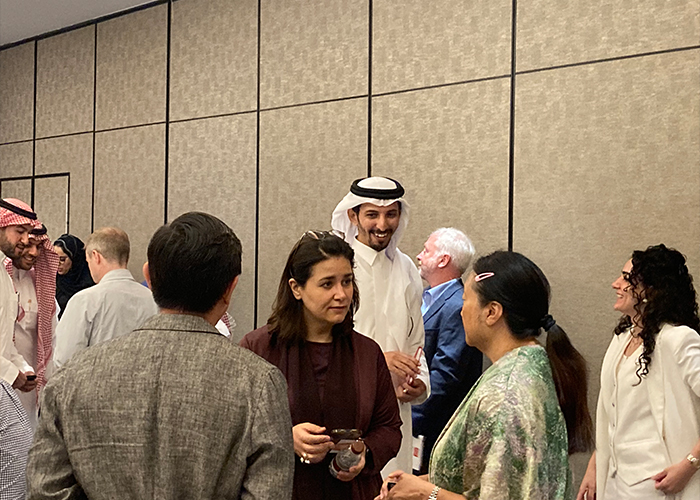 During the Mission, the UK delegation had the benefit of a well designed UK Group Lounge at the sold out Index/Hotel Show - which took up all four halls at Riyadh Front Exhibition Centre. The eye-catching stand furniture was kindly supplied by CIUK Member, Boss Design.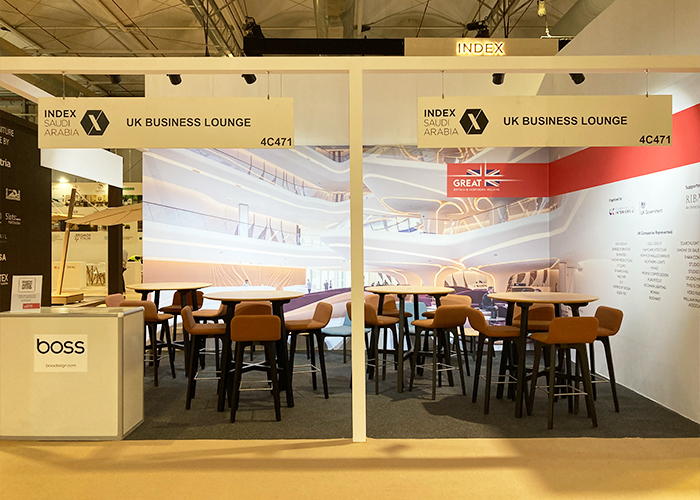 The UK stand had the added benefit of an excellent location on the main show aisle and was located right by the Design Talks stage which hosted sessions with major KSA designers and architects.
Over 23,700 visitors attended Index, with 500 exhibitors from 35 countries, and over 165 speakers across three talks stages, illustrating the demand in the hotel and hospitality sector, the architecture fit-out and design industry, and the burgeoning lighting sector.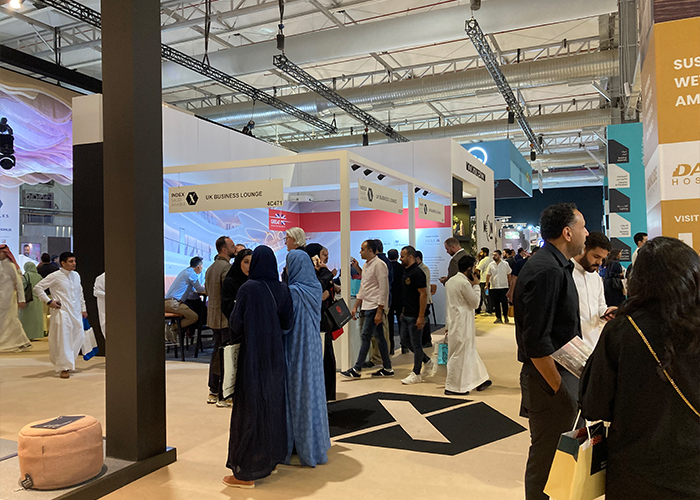 The UK group were overwhelmed with enquiries and discussions with specifiers and buyers from the moment the doors opened on each of the three days.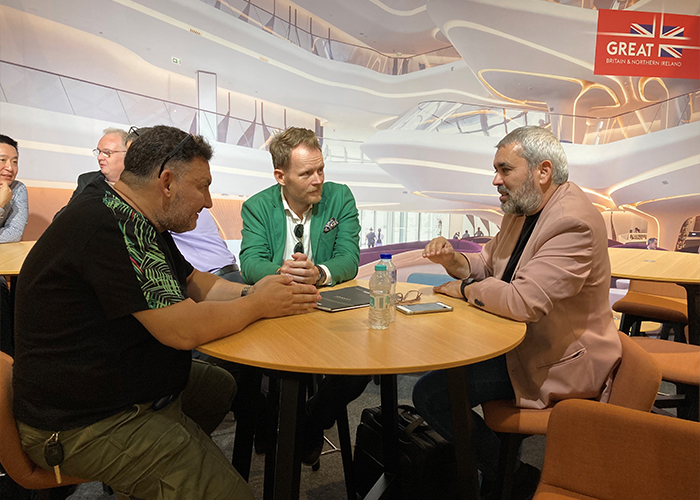 Above, Rui Marques, Head of International Sales, ILIV, with clients.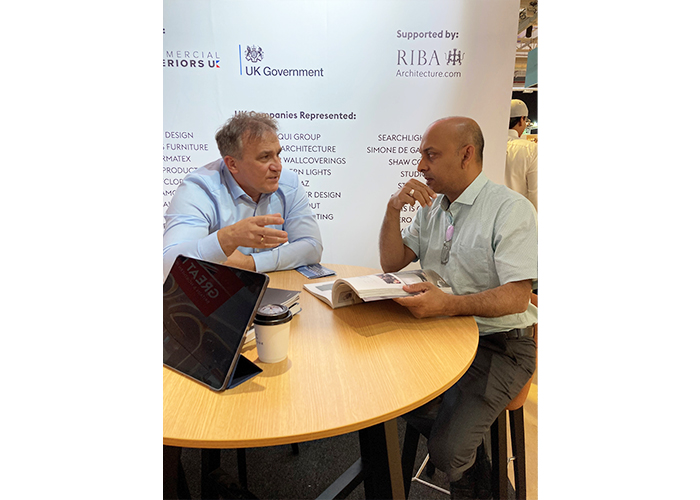 Above, Renjith Nair, Regional Manager, Newmor in discussion with Czaba Kiraly, Kleen-Tex.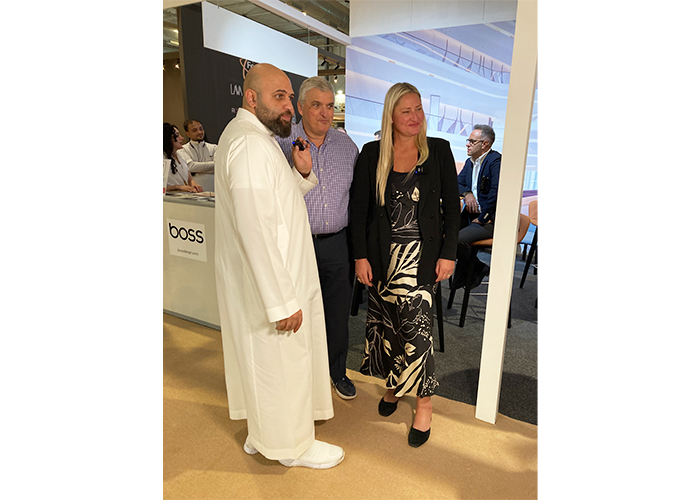 Above, Angie Moore, Country Business Manager of Boss Design, with Simon Shuck of Inspired by Design (centre).
The Mission also attended Cityscape Global Exhibition and Conference held at the Riyadh Exhibition and Convention Centre in Malham, from 10-14 September, approximately 1 hour driving distance out of Riyadh City. This event was on an even more massive scale with a footfall of almost over 200,000 visitors over the three day run. (Pictured below: Steven Chick from Liqui Group by the Saudi Downtown stand.)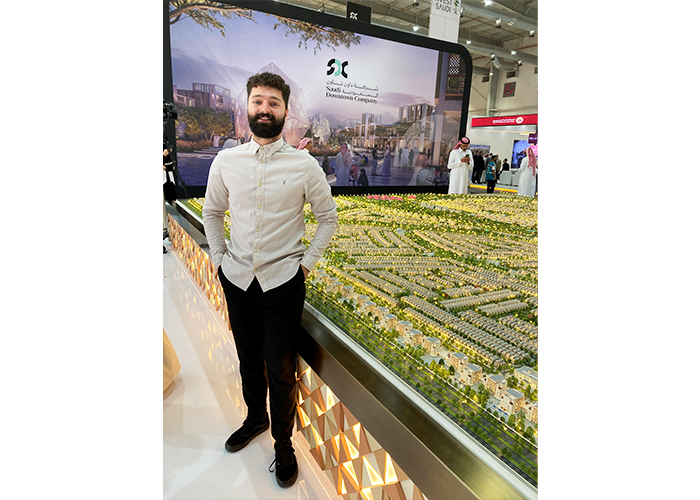 With all the major giga-projects on display, alongside other huge developments and future concepts like "The Line", vertical living (pictured below), this exhibition was truly mind-blowing.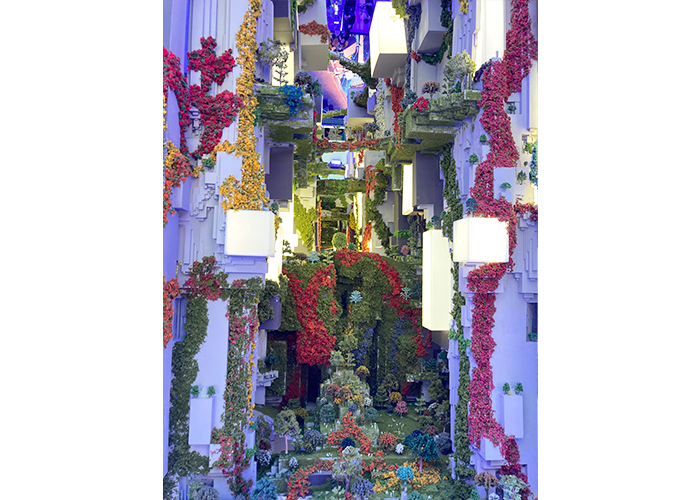 Our delegation spent two busy days visiting/networking at Cityscape Global (10am-10pm) before returning for the start of the Index/Hotel Show (4pm-10pm).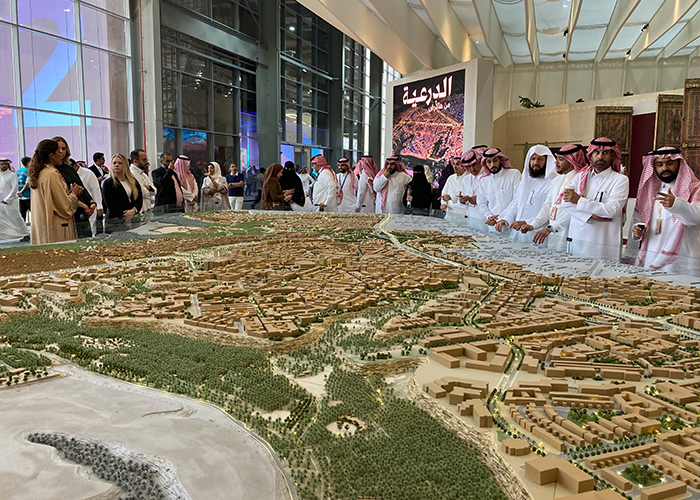 Pictured below: Wan Sheong Gardner Yau and Herbert Lui, Partners, Studio Moren, who were delighted to see one of their designs for buildings in Battersea Power Station on display at Cityscape.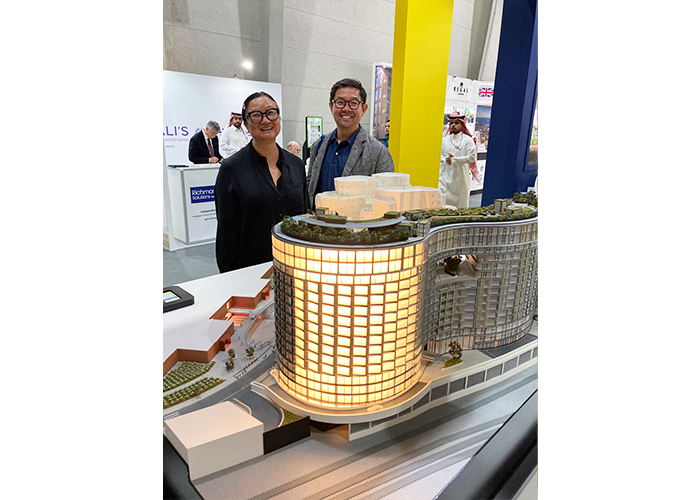 Pictured below: David Walker and William Matthews, Directors of William Matthews Associates.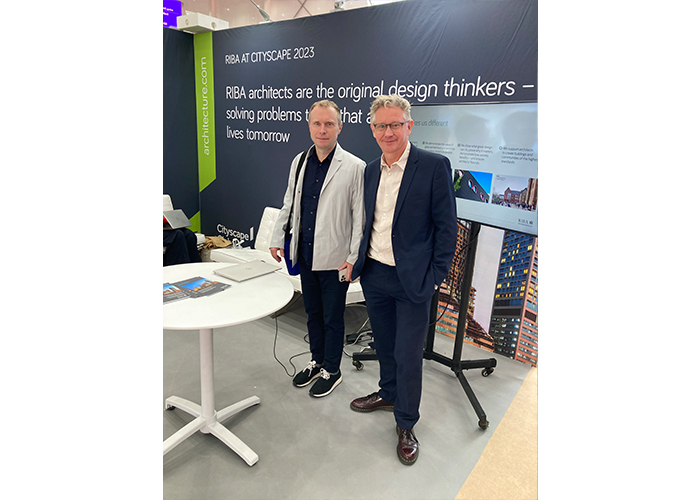 RIBA had a stand at Cityscape (pictured below). With L-R Karen Beamish Executive Director of Products and Services, RIBA; Graham Ellis Middle East Business Specialist, Services & Skills, Exports & UK Trade, DBT; Emmanuelle Meunier, Partnerships Manager (International Institutes) RIBA, Sue Graves, Head of International Business Development CIUK and Safwan Syed, Trade Advisor - Creative Cluster, DBT British Consulate Jeddah.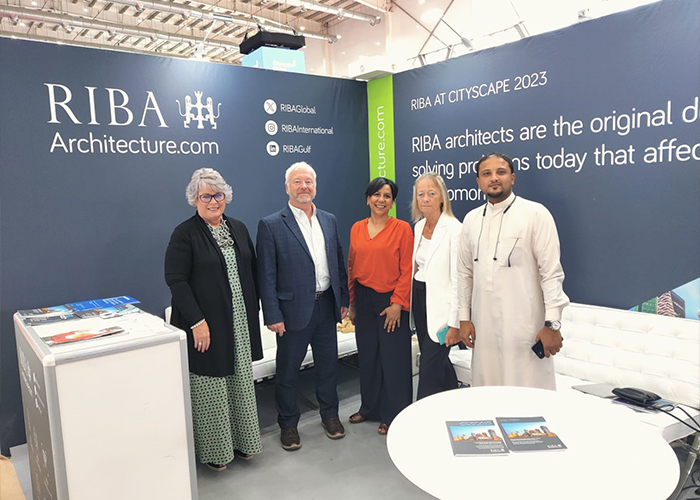 RIBA kindly hosted a networking lunch at Cityscape Global where Kabir Rahman, Chief Operating Officer and Head of Trade at the British Embassy in Riyadh and Dr Valerie Vaughan-Dick CEO RIBA shared their views with the assembled audience of architects, designers and trade mission delegates on the incredible opportunities in KSA.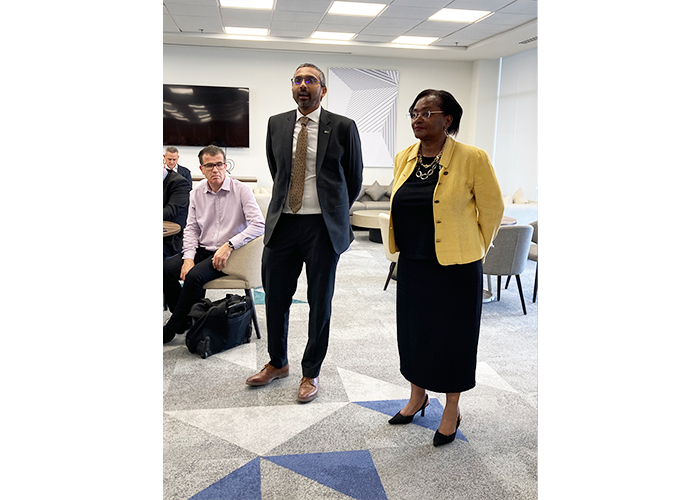 We also took the opportunity to take a group shot of the mission delegates together with RIBA members and their team (see below).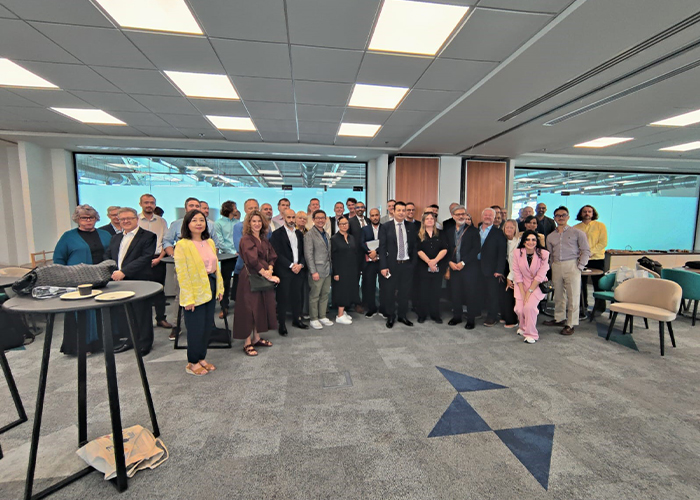 The 30 attending companies were very optimistic of real business opportunities coming through from their presence and visits. Several of the architects who participated in the mission are in follow up discussions with a number of the major Saudi entities.
Some comments from Mission Delegates on the success of the Mission were:
David Walker, Director, William Matthews Associates
"Thank you so much for organising the trip to Riyadh. It was extremely productive, informative and enjoyable."
Steven Chick, Project Manager, Liqui Group
"A big thankyou to everyone on the trip, it was really great to meet you. Looking forward to future collaborations. Until next time."
Freddie Metcalfe, Specification Team, Roman
"Thanks everyone for an amazing and memorable experience."
Vincent Guillon, Sales Director EMEA, Panaz
"Thank you Sue, Graham, Safwan and Dalia for this great event. Insights, amazement, contacts and thoughts for the future among the many takeaways."
Angella Moore, Country Business Development Manager, Boss Design
"Sue, Graham, Safwan and Dalia you did the impossible. Thank you for your unending support and kindness."
Rui Marques, Head of International Sales, ILIV
"It was a pleasure to meet all in this mission, great organisation. Congrats to all involved to put this together."
Nathalie Rozencwajg, CEO, NAME Architecture
"Thanks for organising this! It was a very productive few days."
Karen Beamish, Executive Director of Products and Services, RIBA
"…It sounds like it has been very worthwhile for us all."
The team who organised this successful mission (pictured L-R below) were:
Sue Graves, Head of International Business Development, Commercial Interiors UK
Safwan Syed, Trade Advisor - Creative Cluster, DBT British Consulate Jeddah
Graham Ellis, Middle East Business Specialist, Services & Skills, Exports & UK Trade, DBT
Dalia Abu Alrob, Senior Trade Advisor, Creative Cluster, DBT British Embassy, Riyadh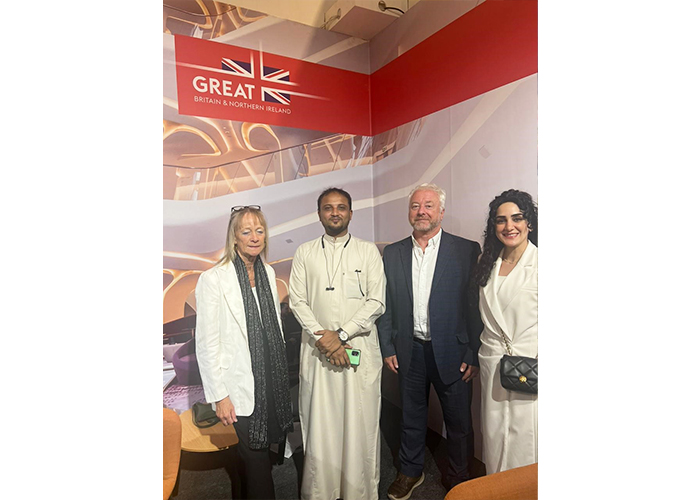 Diary date:
Commercial Interiors UK is planning to run another Mission to Index Saudi from 17-19 September 2024.
For further information, please contact Sue Graves sue@commercial-interiorsuk.com