The British Contract Furnishing Association (BCFA) supported by the UK Department for International Trade (DIT) and the Royal Institute of British Architects (RIBA), facilitated and ran a successful UK Trade Mission to Middle East Design & Build Week 12-14 September 2022 at the Abu Dhabi National Exhibition Centre (ADNEC), Abu Dhabi, UAE.
This inaugural exhibition was organised with the support of Ministry of Industry and Advanced Technology (MoIAT), Abu Dhabi Department of Economic Development (ADDED) and jointly organised by Abu Dhabi Chamber of Commerce & Industry (ADCCI) and CONNECT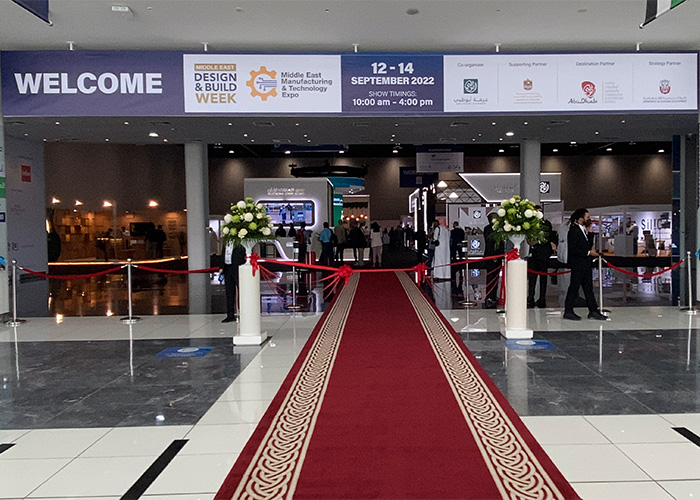 Over twenty selected British companies – including six BCFA members - who operate across the fields of architecture & interior design and supply design-related furnishings and fixtures to the construction and interiors sectors, participated in the mission to promote their expertise to local and regional decision-makers as well as key industry contacts and also to discover new opportunities in this dynamic and burgeoning marketplace.
UK Companies participating in the mission were :
Art Story by Elegant Clutter : Burgess Furniture Ltd : Conception Architects : Debbie Flevotomou Architects Ltd : Franklite : Giles Miller Studio : Haley Sharpe Design : ILIV : Inspired by Design : Jam By Hedayat : Logovisual Ltd :: Paguro Ideas : Panaz Ltd: Sanderson Design Group : Simone de Gale Architects Ltd : T2ds : TC Group : White Red Architects.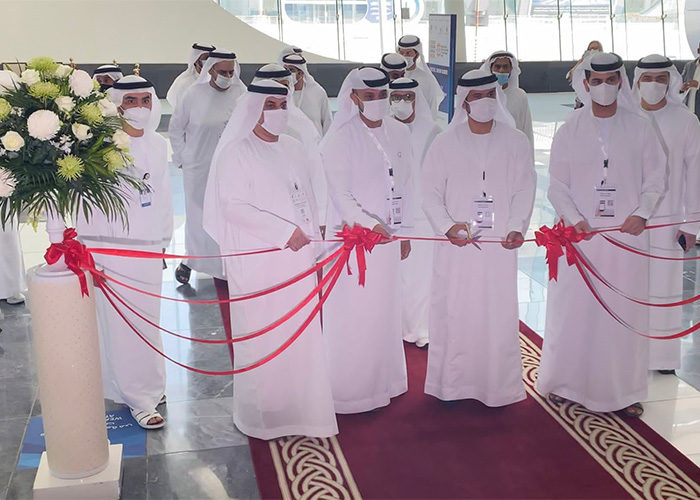 The event was opened by His Excellency Awaidha Murshed Al Marar - Chairman Engineer, Abu Dhabi Department of Energy (DoE), Abu Dhabi Chamber of Commerce Board Member, and Abu Dhabi Director General, His Excellency Mohamed Helal Al Mheiri with representatives from various ministries, high-level representatives from the business community, and other distinguished officials.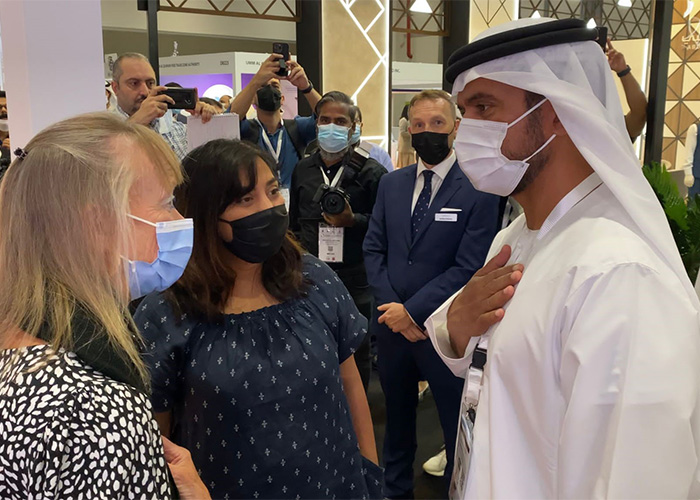 Azlina Bulmer, Head of International at RIBA and Sue Graves, Head of International Business Development BCFA were honoured to introduce the UK Pavilion to the visiting dignitaries.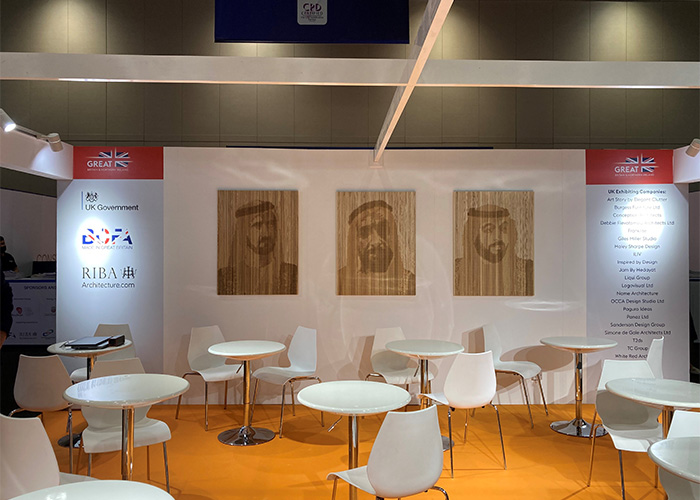 The UK had a dedicated designed networking Pavilion which enabled the UK companies to meet and discuss projects with potential clients.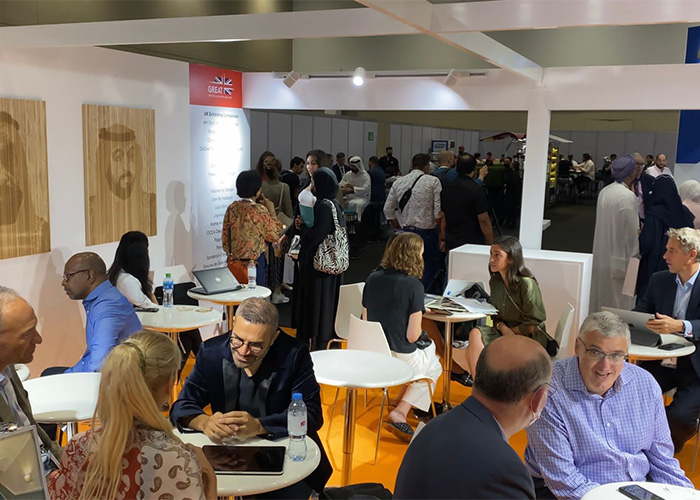 The group also benefitted from on-the-ground support from BCFA, DIT & RIBA expertise to help them identify new opportunities in this rapidly expanding marketplace.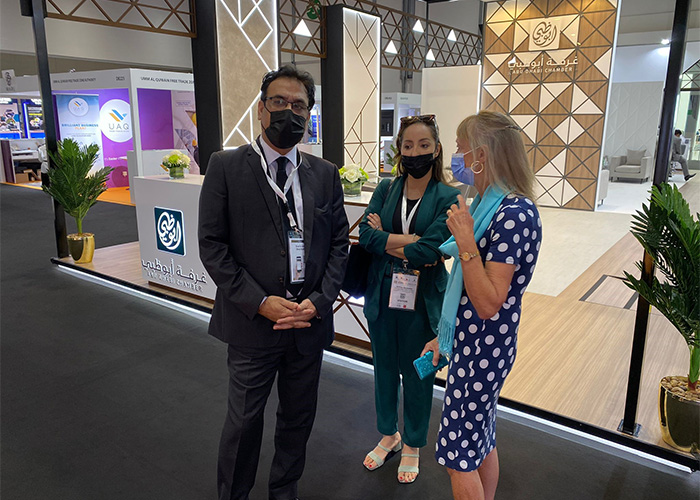 The UK group were delighted to be visited by Rashid Khawaja, Trade Adviser, Infrastructure (Built Environment) & Smart Cities, and Sophia Boukersi, International Market Advisor - Export Support Service, DIT Middle East who were both based at the British Embassy in Dubai. Rashid and Sophia gave the group the benefit of their in depth knowledge in the region.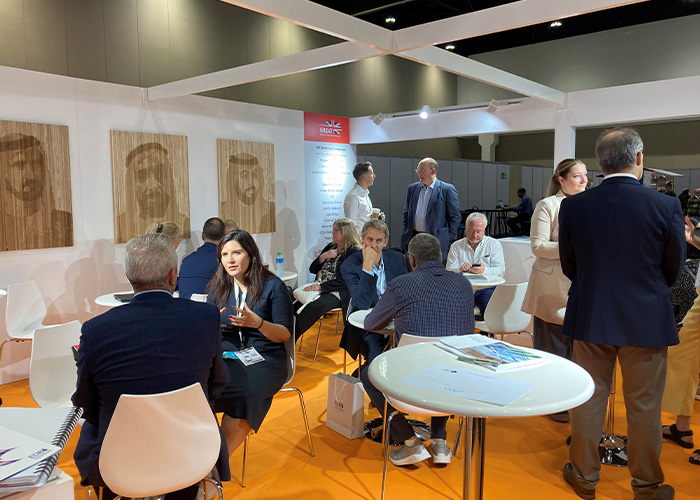 Yasameen Khan, Head of Operations and International Trade Adviser, British Embassy, Baghdad, Iraq (in the foreground) met with all the UK companies.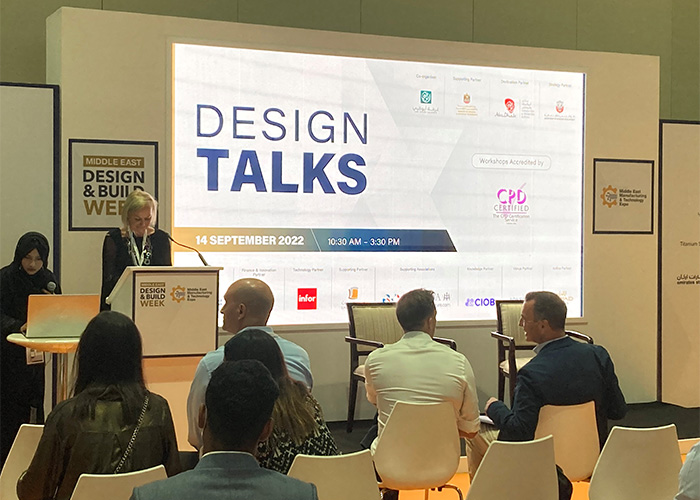 Over the three day run, the show provided some informative CPD-accredited Workshops and Seminars in a dedicated conference theatre. Mission attendees and RIBA Gulf representatives took part in two keynote sessions which proved very popular with the visitors to the show who not only came from the Emirates and the wider Gulf/MENA region as well.
The mission also included two knowledge based off site in-market business briefings.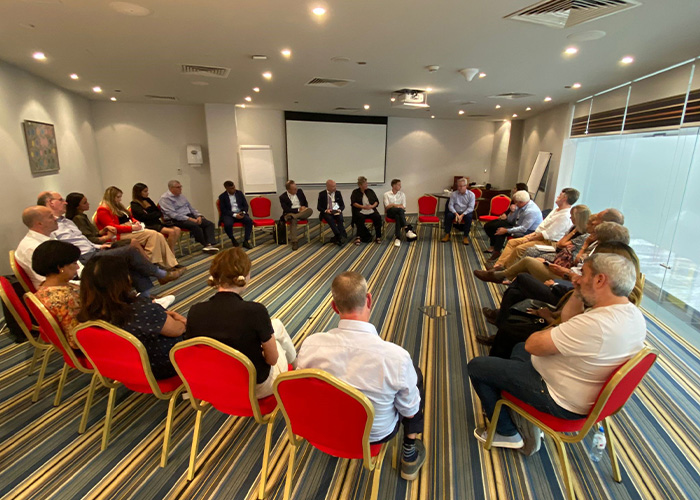 The first seminar, held at the Aloft Hotel, was led by Graham Ellis, Department for International Trade Middle Eastern Business Specialist, who highlighted a number of key areas for future business involvement in the wider Middle Eastern region.
Graham Brown from Haley Sharpe Design highlighted the cultural and heritage focus of Abu Dhabi as distinct from the other Emirates. Simon Shuck from Inspired by Design shared his experiences of recently participating in a successful hospitality focussed event in Riyadh, Saudi Arabia.
Yasameen Khan, Head of Operations and International Trade Adviser at the British Embassy in Baghdad also shared her knowledge of this relatively unknown country and spoke of the exciting future developments which were beginning to take place.
.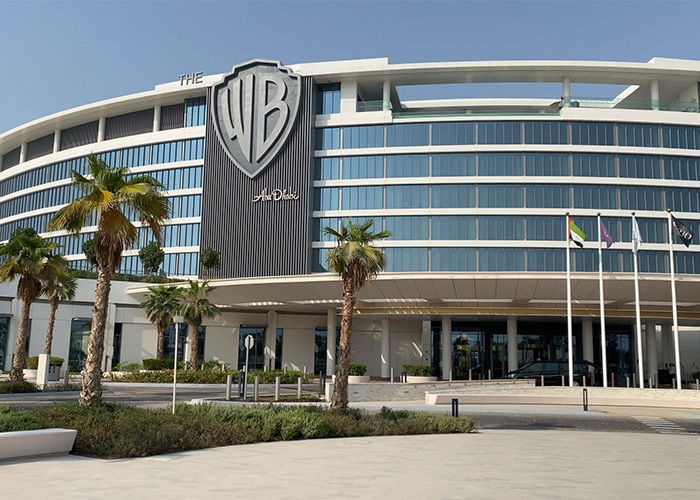 The mission also visited Yas Bay, where an in depth briefing was held at the superb WB Abu Dhabi Curio Collection by Hilton.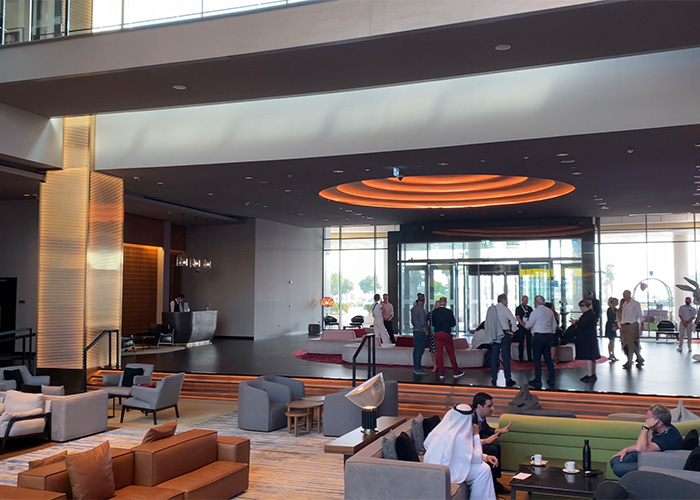 Representatives of major developing companies Miral and Aldar, kindly gave the team an informative assessment of the future initiatives taking place in this rapidly expanding part of the Emirate.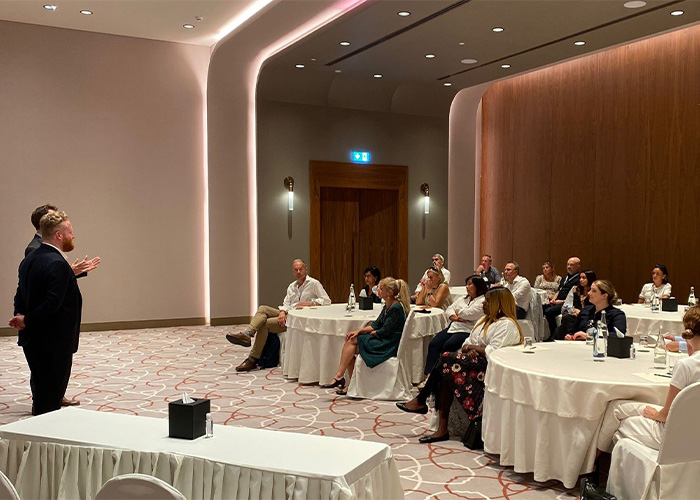 The UK companies all departed after the three days having gained extensive knowledge of the countless business development possibilities in the Middle East Region, information on how to proceed to grow their MENA export potential and lastly having made good contacts with potential new clients to follow up.
Our grateful thanks go to all the help and assistance we received from various companies and individuals without whose help the success of this mission would not have been possible.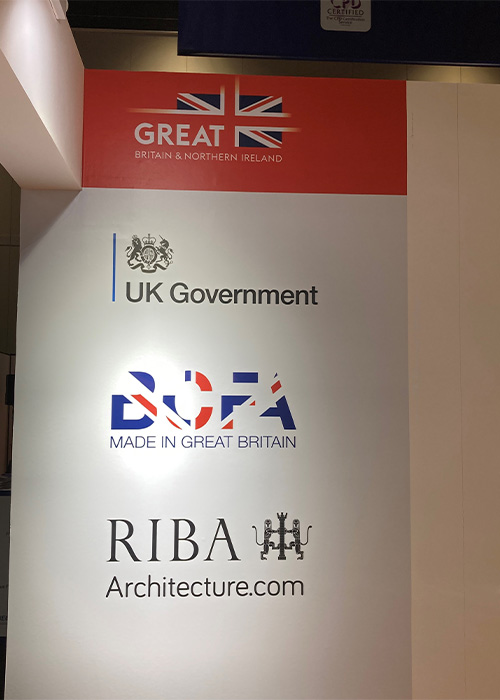 For further information please contact: Sue Graves, Head of International Business Development BCFA: sue@thebcfa.com, +44 (0) 7891 594796
Watch our highlight video here: